Football Manager 2023 Live Counter
---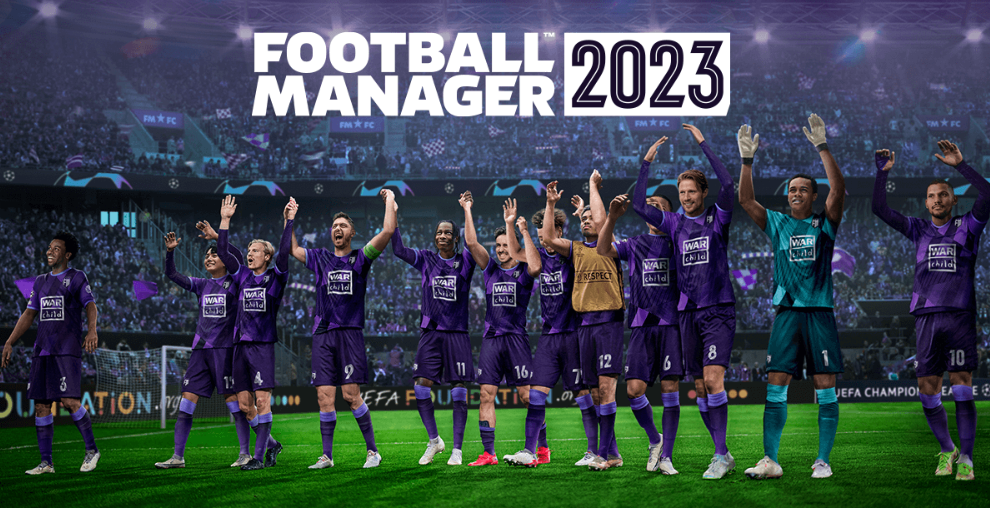 Real-time Football Manager 2023 live player counter from Steam. This page will give you live estimation of the number of people playing Football Manager 2023; its peak players in a day, maximum concurrent players in a month, and the all time concurrent players.
Note that all the details you see here are from Steam stats alone and does not include stats from other platforms.
Graph
Category
---
Football Manager 2023 Monthly Player Count
---
Month
Avg Peak Players
Gain
Gain %
Peak Players
Last 30 Days
49,063
-175
-0.35%
77,404
August 2023
49,242
-536
-1.08%
77,408
July 2023
49,777
3103
+6.65%
78,633
June 2023
46,676
1067
+2.34%
76,868
May 2023
45,608
-1955
-4.11%
72,758
April 2023
47,560
-371
-0.78%
76,394
March 2023
47,935
-616
-1.27%
80,710
February 2023
48,548
-2595
-5.08%
83,276
January 2023
51,146
5576
+12.24%
83,607
December 2022
45,566
4297
+10.42%
74,833
November 2022
41,274
14857
+56.32%
75,841
October 2022
26,421
-
-
42,873
About Football Manager 2023
Football Manager 2023, also known as FM23, Developed by Sports Interactive and published by Sega. It was initially released on November 8, 2022, for Microsoft Windows and macOS, with early access available two weeks prior. FM23 is part of the long-standing Football Manager series, which captured players who love Football such as FIFA23.
FM23 is a football management simulation video game that invites players into the world of football strategy and leadership using your own wits. This page will provide you insights on how the game is perceive by players around the globe, see the concurrent live players, daily players and monthly players.
As the player or the manager, your role is to act just like a real manager of a football team, you are responsible of all aspects of the teams operations, including player recruitment, training, match strategies, and financial management.
Players or as the manager you are tasked with the challenge of leading their teams to victory while ensuring the stability and growth of the club.
Football Manager 2023 can be downloaded or purchased from a variety of digital distribution platforms like Steam, the PlayStation Store, the App Store, Google Play Store, and Microsoft Store, among others. However, this player count statistic wont include Mobile users.
Frequently Asked Questions
How many people are playing Football Manager 2023 right now?
Currently, there are about 54,386 live concurrent people playing Football Manager 2023. This data are acquired directly from Steam stats and does not include users who are not using Steam such as mobile users.
How many people are playing Football Manager 2023 daily?
Football Manager 2023 maintains a healthy player count of 54,386 concurrent average daily users, indicative of its enduring popularity this year. The exact numbers can fluctuate based on a variety of factors, including time of year, ongoing events, or updates..
Is Football Manager Still Popular this 2023?
Football Manager 2023 continues to be a popular choice among football enthusiasts and strategy sports game fans alike. Given the depth of the gameplay, and the continuous updates from the developers, the game remains a staple in the gaming community.
Is Football Manager 2023 Dead?
Football Manager 2023 is far from being dead! With over 54,386 concurrent players this game wont be dead anytime soon. The game's dynamic simulation and the thrill of managing a football club keep its community active and engaged. The regular addition of new features and updates also contributes to maintaining a lively and active player base.
Is Football Manager 2023 free to play?
Football Manager 2023 is not a free-to-play game. It is a premium game that can be purchased from supported platforms like Steam, but this game offers 1 day free trial.
Is Football Manager 2023 available on Steam?
Yes, Football Manager 2023 is available for purchase and download on Steam. The platform also allows players to engage with the community, share their achievements, and even create and share custom scenarios. You may also visit Football Manager 2023 for more details.
Can you play Football Manager 2023 on Mac?
Yes, Football Manager 2023 officially supports Mac. Mac users can easily download and install the game from the Steam store. The game's performance on Mac is well-optimized, ensuring a smooth gameplay experience for all players.