VPet Live Counter
---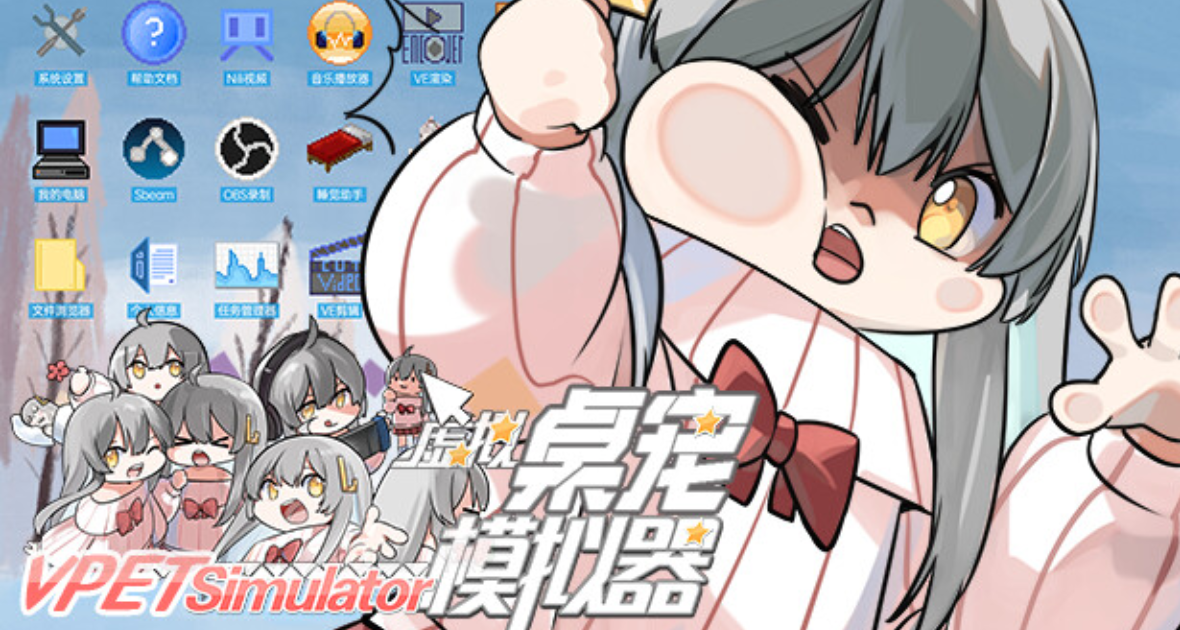 Real-time VPet live player counter from Steam. This page will give you live estimation of the number of people playing VPet; its peak players in a day, maximum concurrent players in a month, and the all time concurrent players.
Note that all the details you see here are from Steam stats alone and does not include stats from other platforms.
Graph
Category
---
VPet Monthly Player Count
---
| | | | | |
| --- | --- | --- | --- | --- |
| Month | Avg Peak Players | Gain | Gain % | Peak Players |
| Last 30 Days | 46,138 | -226 | 100% | 85,322 |
| August | 46,326 | - | 100% | 85,316 |
About VPet-Simulator
VPet-Simulator, developed by LB Game, is a unique simulation game that has rapidly gained popularity on Steam. This game offers players a delightful experience by placing an animated character, specifically an anime girl, directly on their desktop.
Since its introduction, VPet-Simulator has seen a surge in its player base, with 8,783 concurrent players shortly after its release. This number is further complemented by an average of 36,633 active players daily.
VPet-Simulator is not just any game; it's an experience. If you've ever felt that your desktop background was too mundane or wished for a more interactive and lively backdrop, VPet-Simulator is the answer. The game places an anime girl on your desktop, who interacts with the environment, making your desktop come alive.
What sets VPet-Simulator apart is its open-source nature, available on GitHub. This allows enthusiasts and developers to delve into its code, potentially modifying and customizing the game to their liking. However, players are encouraged to approach this feature responsibly.
The game has garnered significant attention and positive reviews on Steam, boasting an 'Overwhelmingly Positive' rating. Its unique concept and engaging interactions have made it a favorite among many, proving that sometimes, simplicity combined with creativity can lead to a massive hit.
All the data mentioned here are sourced directly from Steam and do not account for statistics from other platforms or sources. Discrepancies in data from other sources might be observed.
Frequently Asked Questions
How many people are playing VPet-Simulator right now?
There are about
8,783
players actively playing VPet-Simulator across all supported platforms. Please note that this number is acquired directly from Steam Stats and does not include stats from other platform if there's any. It may fluctuate depending on the time of day and other factors.
How many people are playing VPet-Simulator daily?
On average, VPet-Simulator sees about
36,633 peak concurrent active players
each day. This number can increase during weekends or when new updates or events are released.
Is VPet-Simulator still popular in 2023?
VPet-Simulator is a new pet simulator game released this year, it continues to maintain a steady player base in 2023. With its unique gameplay and adorable pet interactions, it attracts both new players and retains its existing community.
Is VPet-Simulator free to play?
Yes, VPet-Simulator is 100% free to play you can download and install it via
Steam
. However, it does offer in-game purchases that can enhance your gaming experience.
Is VPet-Simulator on Steam?
Yes! VPet-Simulator is available on Steam. For more details and to access the game, you can visit its
official Steam page
.
Can you play VPet-Simulator on Mac?
VPet does not officially support MacOS devices. However, Mac users can still play the game using a Windows emulator like Parallels. Please be aware that using such emulators might require significant memory and can potentially degrade the gaming experience due to the high memory demand of the emulator software.