Starfield players, have you ever felt the frustration of choppy gameplay, unresponsive controls, and less-than-ideal graphics? Before update 1.8.86, these issues might have marred your interstellar adventures. But worry no more! The latest patch brings a host of fixes and improvements that address these pain points, transforming your gaming experience.
Starfield players, the wait is over! The latest update, 1.8.86, is a game-changer, and here's why:
Starfield 1.8.86 Patch DLSS Support
Bethesda Game Studios has outdone themselves with the official launch of NVIDIA DLSS support. This means if you have a compatible NVIDIA graphics card, your gaming experience just leveled up with features like DLSS Super Resolution, Deep Learning Anti-aliasing, Nvidia Reflex Low Latency, and DLSS Frame generation.
This groundbreaking feature is a game-changer for PC gamers. With DLSS Super Resolution, Deep Learning Anti-aliasing, Nvidia Reflex Low Latency, and DLSS Frame generation, your explorations in the vast universe of Starfield are now smoother, crisper, and more visually stunning than ever before. Gone are the days of compromising on visual quality for performance.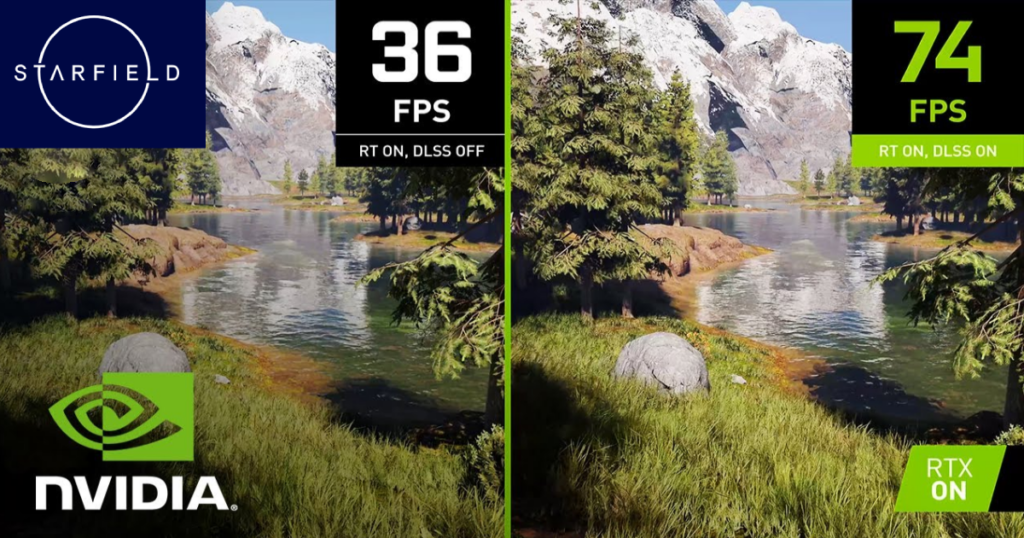 Now, you can enjoy both, thanks to this technological marvel that elevates your gaming experience to the next level. Welcome to a new era of Starfield, where every star shines brighter and every planet looks more lifelike!
More Than Just Graphics
Ever stumbled upon food and drinks in Starfield and wished you could just gobble them up right there? Your wish is granted! The update introduces the ability to ingest food and drink items as soon as you find them. Imagine the satisfaction of enjoying those Chunks on the spot or saving them for later – the choice is yours.
Starfield 1.8.86 Patch Stability and Gameplay Enhancements
The 1.8.86 update isn't just about fancy graphics. It tackles memory issues, optimizes GPU performance, and improves CPU usage, especially on high-end systems. Gameplay enhancements include more forgiving stealth, fixes for in-game issues like choppy mouse movement, and ensuring NPCs dress appropriately for the occasion. Talk about attention to detail!
Check below for more details on gameplay enhancements.
Added ability to eat food placed in the world.
Adjusted stealth to be more forgiving.
Fixed a cloaking issue with Andreja's head.
Resolved a bug preventing weapon firing.
Addressed NPCs appearing without clothes.
Fixed skill challenges progression issues after reaching the Unity.
Solved inventory access and saving issues post-Unity entry.
PC: Rectified choppy mouse movement.
Fixed a rare issue causing loss of the home ship.
Addressed missing ship services technician.
Corrected camera shaking during transitions like Traveling and Docking​
Starfield 1.8.86 Patch Quests and Graphics
Quests like "All That Money Can Buy" and "Blast Zone" have been tweaked for a smoother ride. And if graphics are your thing, rejoice! The update refines ambient occlusion, shader compilation, and even lets you adjust brightness and contrast for that perfect visual feast. Here are all the improvments:
Addressed memory issues and leaks.
Added GPU performance optimizations, more impactful on higher-end cards.
Improved renderer threading model for better CPU usage on high-end systems.
Various stability and performance enhancements.
So, Starfield enthusiasts, get ready for an unparalleled gaming journey with update 1.8.86. It's not just an update; it's a revolution in your virtual universe!