Sony has recently unveiled its latest gaming console, wait not actually new but an upgraded version of the PS5, introducing the PS5 Slim. Fully packed with more power, more performance, and unmatched game quality into an impressively sleek and compact design, this state-of-the-art console sets a new standard in gaming. Despite being light on weight, the PS5 Slim is certainly not light on features or capabilities.
Sony did not only update the look with a design that one could easily be mistaken for a book straight off a shelf, but also upgraded its SSD capacity, modularity, and upgraded connectivity options, the PS5 Slim reflects the future of gaming. Stay with us as we delve deeper into the details of this promising gaming console, exploring its distinctive offerings and the value it brings to gaming enthusiasts worldwide.
Pricing Details
Sony's PS5 Slim will launch in two versions: the Digital Edition and the standard model. These will be priced at $449 and $499 respectively. It's important to note, the PS5 Slim Digital Edition presents a $50 increase from the original PS5 Digital Edition that sold for $399. In the standard model, you will find an additional UHD Blu-Ray drive, which can also be bought separately for $79.99 if you go for the Digital Edition. Interestingly, Sony has broken its traditional approach of offering discounts for newer revisions, as seen with the PS3 and PS4 Slim.
| Region | PS5 with Ultra HD Blu-ray disc drive | PS5 Digital Edition |
| --- | --- | --- |
| U.S. | 499.99 USD | 449.99 USD |
| Europe | 549.99 EUR | 449.99 EUR |
| U.K. | 479.99 GBP | 389.99 GBP |
| Japan | 66,980 JPY (includes tax) | 59,980 JPY (includes tax) |
Features
Build and Design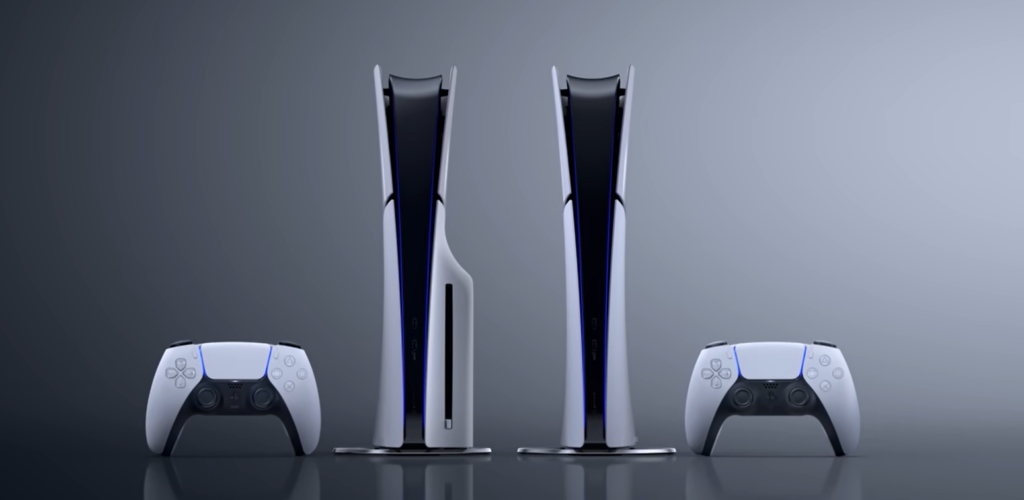 PS5 Slim offers new sporty look! Sony updated with new chassis and a removable disk drive, the PS5 Slim displays a more refined and slimmer appearance compared to the original PS5. It's reported to be around 30% smaller and approximately 18-24% lighter than the original model.
Storage
Sony has enhanced the SSD capacity from 825GB to a generous 1TB, opening up more room for gamers to store their favorites.
Modularity
The console features an optional disk drive that can be bought separately, giving gamers the power to choose a drive-less version and add a disk drive later if necessary.
Connectivity
The PS5 Slim comes with two front-facing USB-C ports, which includes one 10Gbps port, and two USB-A ports at the back. Though it backs AX WiFi connections, an upgrade to WiFi 6E would have been a noteworthy move.
Release and Availability
The PS5 Slim is set to release in November 2023, though Sony has yet to announce a specific date. In line with its previous trend, Sony typically releases slimmer versions a few years after the original console, which falls in line with this PS5 Slim launch.
Power & Performance (Nothing Much)
Despite expectations, the PS5 Slim does not claim higher power over the original PS5. This consistency in power across both models ensures compatibility with games released on the platform and maintains the same gaming experience everyone is used to.
Where to Buy
You will initially find the PS5 Slim at PlayStation Direct, with anticipated releases at more retailers, much like the release pattern of the PlayStation VR2.
The PS5 Slim retains the power and performance of its predecessor while introducing a new design with several notable enhancements. The revamped build, increased storage space, and modular design offer gamers flexibility and an evolved aesthetic.
However, the raised price – particularly for the Digital Edition, and lack of a power increase could give potential buyers a moment's pause. As we eagerly anticipate its release, it will be fascinating to witness the market's reaction towards PS5 Slim and its place in the gaming landscape.